An iconic bottle for an iconic brand
Brand strategy and packaging design for Faxe Kondi / Royal Unibrew
Faxe Kondi is an iconic Danish brand and Denmark's most popular lemon/lime flavoured soft drink. Faxe Kondi has been on the market since 1971 and was originally tapped on beer bottles as they were owned by a brewery. Several years and bottles later, Faxe Kondi did no longer feel that the current bottle reflected the brand's DNA, heritage and iconic status. The task was therefore to create a new bottle design that embraces the values that make Faxe Kondi so unique. Packaging design is, after all, a promise of what to expect.
Project details & results
Together with industrial designer Jonas Lundin, IDna Group has designed a new iconic bottle for Faxe Kondi. The new bottle design integrates the well-known Faxe Kondi 'energy swoosh' in the bottle as a Faxe Kondi signature to underline the brand identity. Together with the shape of the new bottle, this element expresses the playful energy that comes from enjoying a Faxe Kondi – preferably with your friends.
Following the new brand strategy and design, the sales of Faxe Kondi have risen steeply, resulting in that the sales of Faxe Kondi 0 calories alone have grown by 35 % since the launch, compared to growth by 13 % for the light-category in general (data from Nielsen, provided by Royal Unibrew, July 2020).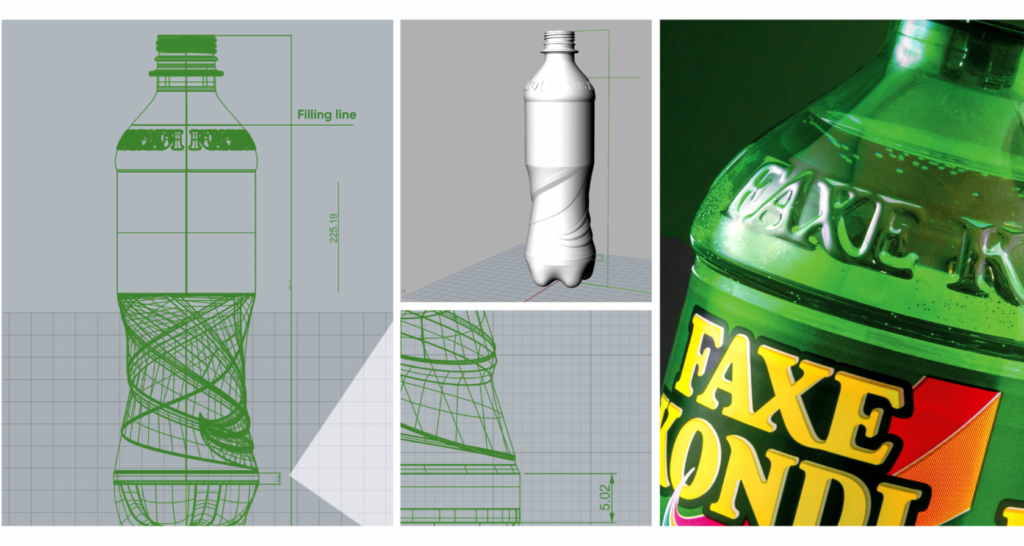 Vote for the next Faxe Kondi flavour
Faxe Kondi is as mentioned Denmark's most popular lemon/lime flavoured soft drink. Now, the Faxe Kondi brand wants to launch a new flavour, and you get a say. In April 2022, Faxe Kondi introduced three limited editions: Faxe Kondi with peach, red berries or liquorice flavour. During spring and summer of 2022, you can vote for your favourite. Which variant do you think should win the "Can of the match" and become the new member of the iconic Faxe Kondi family?
We created the new packaging design for the candidates, and we will course, make sure that the winner will be adequately dressed for success.