We believe that identity is the only truly sustainable competitive advantage. Everything else can be copied or bought. IDna Group is a strategy and design consultancy driven by the desire to help companies, organisations, and brands capture and activate the power of this often under-estimated business asset – the identity.
Identity is the starting point of everything we do. And by activating identity on multiple levels, from strategy, positioning and brand-building to design, we deliver outstanding identities, differentiation, and measurable results. We are renowned for our profound strategic consultancy and award-winning design in the market.
Strategy & research internship
As an intern in our strategy department, you will support with research, analysis and identification of insights. Furthermore, you will be a part of the development processes and client workshops, giving you the opportunity to learn from our proven processes and our experience in developing strong identities, positioning work, value propositions and brand strategies for our clients.
As we express identity in both words and visuals, you will also get the opportunity to support our creative team in ensuring that the visual identity is a translation from strategy into design.
You will work closely together with a senior strategist, who will give you the necessary training and feedback along the way and assess your work on an ongoing basis. So, if you plan a career in business- or brand consultancy, this is an excellent opportunity to get started.
Your role and responsibilities:
Conducting qualitative and quantitative research as well as analysing and translating the results into actionable insights
Helping identify strategic implications and opportunities
Assisting the strategy team with preparing presentations for client meetings, workshops, events, etc.
Keeping up to date with and tracking industry highlights and best practices.
You:
believe in the power of identity
have a curious yet analytical mindset
see insights and strategic opportunities where other people see data
want to learn how to translate research and insights into recommendations
are passionate about and curious to learn about brand and business strategy
have excellent Danish and English communication skills – verbal and written.
We offer you:
As a Strategy & research intern at IDna Group, you will get an understanding of how identity can be activated as a long-lasting competitive advantage. Through strategic projects, you will gain insights and experience within areas such as business strategy, brand strategy, brand architecture, naming, identity in mergers & acquisitions, purpose, and how to translate identity into a visual universe. In addition, by working in our office, you will get hands-on training, valuable work experience and know-how within identity-driven strategy and design, as well as the possibility to start building your own professional network.
Our internship program will ensure that you get a thorough introduction to our offerings and our way of working and get tasks and responsibilities according to your skills and experience, which will help you grow professionally and personally.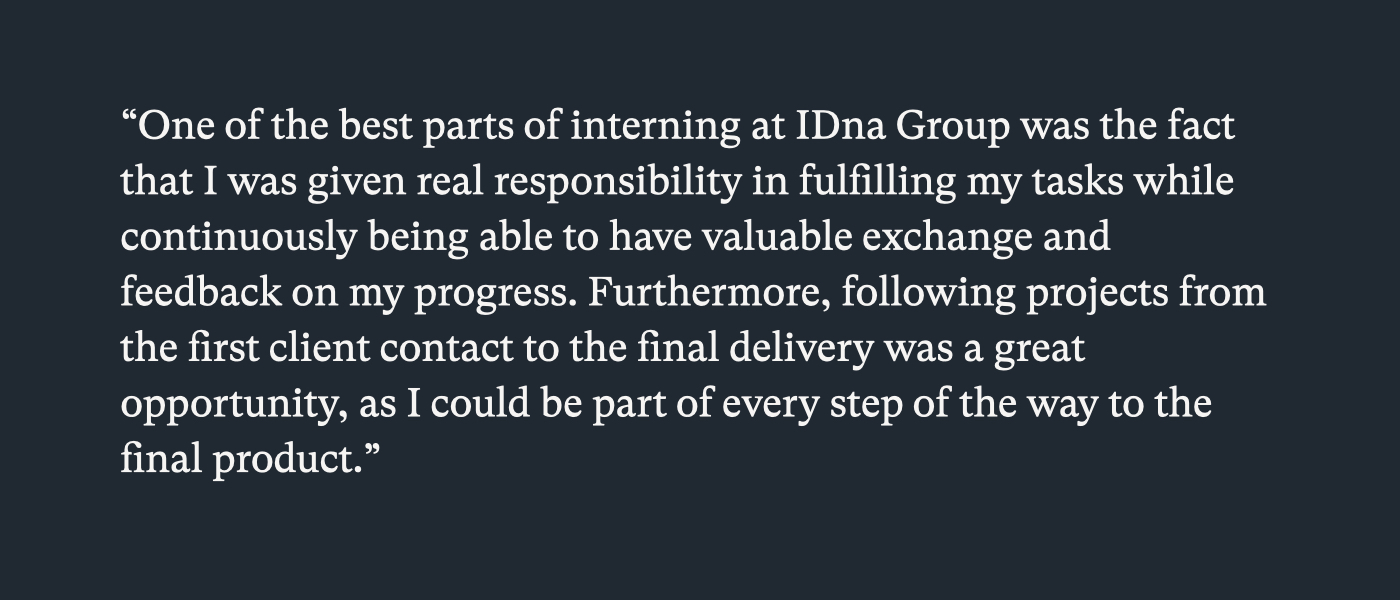 Statement from former strategy intern
"One of the best parts of interning at IDna Group was the fact that I was given real responsibility in fulfilling my tasks while continuously being able to have valuable exchange and feedback on my progress. Furthermore, following projects from the first client contact to the final delivery was a great opportunity, as I could be part of every step of the way to the final product. And lastly, I think what made the internship so valuable is that I was allowed to work on very different tasks & projects, which means that I learned something new every day. That way, every day was different, and I never stopped learning."
Contact & application
If you have questions about the internship, you are welcome to contact senior strategist Beate Kornfeld at bk@idnagroup.com or on mobile +45 91 69 81 44.
The position is full time and with accession as soon as possible. Send CV and application to job@idnagroup.com. We will call for interviews regularly as relevant candidates arrive.